Necessity is the mother of invention. Necessity always catches up and solves a problem. A few cool products speak the language of love for innovation and creativity. With these 20 innovative products, life becomes easier, from the home to the boardroom. We tried to add sources if you would like to know more or purchase. Let us know your favorite innovative products in the comments below.
All credits to young South Korean designer Jeong Sonpin and Dailylife lab for this innovative gardening gadget. Rainy Pot waters the plant in the exact required amount for optimal health. This suspension system enchanted International Competition Spark Award in 2013. The system is simple; this beautiful colored pot comes with hanging plastic dispenser in the shape of a cloud. When filled with water, the cloud drops down the water through tiny little holes slowly neither too filling nor too drying for the plant. This ingenious design inspires us to connect with nature by the engaging view of clouds and raindrops, right inside your apartment.
Small screws are notoriously difficult to hold. Imagine you have to fix screws to an attic. For such a simple task, it's surprising how many things can go wrong like screws slipping out of your hands. While you drive one screw, you might need help in holding the other screws. But with this special product, you can hold the screws through a bracelet. To understand better, take a look at the image below. This product makes the screws super convenient to hold. It holds the screws through a super strong magnet which is placed inside the bracelet. The next time you're on a DIY project, just put on this adjustable bracelet on your wrist for better hold of your nails and other small items.
3. Magic clean – A Jelly cloth to clean hard places
A jelly cloth helps you cleaning the harder places much easier. Designed by Guangzhou Clean & Simple Cleaning Products (who manufactures cleaning products), this jelly cloth can easily reach small gaps in the keyboard, calculators, computers, laptops, car vent, etc. All you need to do is to press it on the device to be cleaned and take it out. Due to its structure, this reusable material easily removes dust, hairs, and food which rests in the small gaps. This product is also environment-friendly and easy to clean. However, various other companies such as Domire , Magic High-Tech, etc… also sell the jelly cloth through Amazon.
[Image Source: Amazon]
4. FlashTorch Mini – The Burning Flashlights
The world's smallest flashlight comes with a tagline "Why illuminate when you can incinerate?" This torch is capable of producing an incredible 2300 lumens of intense white light. This light not only guides you home but also can light a fire or even fry an egg. It can survive in the harshest of environments. The highly reliable and rechargeable halogen lamp's maximum lifetime is 1,000 hours along with other special features such as three power selection modes and automatic lock-out mode to prevent accidental use. The flash torch is lightweight and comes with a one-year warranty.

Those who eat and cook pizza regularly understand the need for a properly portioned pizza. Each slice has to be cut just right, but sometimes, straight lines can be difficult. This incredible tool comes with a detachable laser pointer and flashlight. However, it's not dishwasher safe. Just press the trigger and follow the line the Tactical Laser guided Pizza Cutter shines across your pizza, which helps you cut perfectly straight pieces. You can either choose flashlight only, laser pointer only or both flashlight and laser pointer mode (for those all-too-often moments when you have to slice pizza in total darkness…).
[Image Source: Green Head]
6. Basketball Mug – A Mug with a basketball hoop
Basketball fans, this cup is for you. You can use it to drink a coffee or eat soup. The astonishing fact about this mug is it was created by a nine-year-old dyslexic boy named Max to help kids with limited opportunities play. He also owns several other patents. The mug comes with a basketball basket as an extension to the handle, through which you can throw in sugar cubes for the coffee, crackers for the soup, marshmallows for the hot chocolate. This high-quality porcelain made dish-washable mug has a capacity of 350 ml.

[Image Source: Amazon]
7. Grinder Butter Presto – A grater for butter
Designed under Moha brand, Grinder Butter Presto can grate hard or chilled butter easily. Not just butter, this grinder will also work on garlic. The design has piston action for grating and also comes with a lid to prevent loss of flavor and aroma. In addition, it serves as a container for storing unused butter. The grinder is made of stainless steel and plastic, which makes it easier to clean.
[Image Source: Fabryka Form]
8. Bio-fireplace – A cozy fireplace
In the recent days, modern apartments can hardly be equipped with a classic fireplace that runs on wood. Hence, many people are opting for electric fireplaces. With this product, you can run cozy and relatively small fireplaces anywhere around the home, especially without a chimney. Bio fireplaces are named after their usage of environmentally friendly fuel ethanol, which is produced from sawdust. This stainless steel or ceramic spirit lamp is odorless and smokeless. Similar to a wax candle, it is harmless.
[Image Source: Tekku]
9. Modobag – A carry on to carry you
The next time you travel, instead of hauling your suitcase, let your luggage carry you around. The Modobag is the world's first motorized, smart and connected carry-on that makes your travel up to three times faster than walking. This innovative product was invented by Chicago-based entrepreneur Kevin O'Donnell, through his idea that sparked while pulling his kids on his suitcase at the airport.
This revolutionary bag comes with 2000 cubic inches of space for packing and can accommodate riders up to 260 lbs. Similar to a bike, you can throttle, brake, and steer using the easy-to-access Telescoping Handlebar. The rechargeable bag comes with added features such as memory foam cushion seat, crush proof 17" laptop sleeve, quick charging (80 percent charge in 15 min and the full charge in one hour), and optional GPRS-GSM tracking. On a single charge, this bag can travel up to 6 miles at a speed of 8 miles an hour.

10. QuickSafe – A furniture turned shelf/vent
QuickSafe is a hidden compartment that uses RFID technology to convert a shelf into strongbox. Unlike typical magnet locks, RFID locks come with a unique key which cannot be hacked. This appealing furniture is ideal for secretion and immediate access to important materials. The spring-loaded hinges of QuickShelf are adjustable to any desired angle from 30 to 90 deg. Additional features of the lock system include illuminating LED, indicating RFID sensing, and low battery modes. The product comes in various designs – QuickVent, QuickVent PLUS, QuickShelf, QuickShot, and DIY QuickLock. The accessories pack includes batteries, 4 RFID Keys (2 Cards, 1 Key FOB, 1 Token), hardware for installation, instruction manual and, a backup battery.

11. Mini Mobile Robotic printer – A mini portable pocket printer
No more search for a printing station, when you have a portable printer in your hands. Yes! With the advancing technology, printing is now quick and easy. Designed by an Israeli startup ZUta Labs, this mobile printer is easy and fun to use, which can be taken anywhere and prints from any device (laptop, tablet, smartphone) onto any sized page. This wireless grayscale printer comes with a rechargeable battery which lasts for one hour on a full charge of three hours and on/off switches.
[see-also]
It is activated by sliding a hatch at the bottom of the printer which will reveal the inkjet that lasts for over 1,000 printed pages. The printer is based on an Omni-wheel system which allows it to accurately turn and drive in any direction. The polycarbonate printer comes in two colors, Mars black and Titanium white, and is supported on Android, IOS, Linux, OSX, and, Windows. With today's mobile connected world, print any material right away from the mobile.


12. PlanOn SlimScan and RMS – Credit card sized scanners and receipt management
Scan anything anywhere and also manages your receipts for easy reimbursement, through the software. The PlanOn SlimScan SS100 introduces first-ever credit card sized portable scanner. A powerful, high-resolution color scanner fits right into your palm or pocket or cardholder. With this stainless steel scanner, you can scan pictures, receipts, and photos into separate directories. You can also connect to a computer to transfer files. The scanner comes with a rechargeable Lithium Polymer battery. The PlanOn RMS software allows you to scan all your receipts into monthly directories, import and assemble them into reports to expedite expense reimbursements and tax record keeping. You can also import the contact information into Outlook, Microsoft Word or Excel spreadsheets.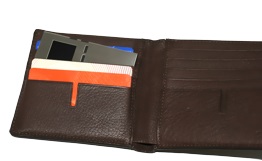 [Image Source: PlanOn]
13. Taga Bike-Stroller – A parent bike
This product lets you cherish memories with your child. Inspired by the Dutch cargo bike (baskets) movement, Taga combines the fun of a bike with the functionality of a premium stroller. Enjoy your ride along with your baby who is seated right between your arms and faces forward. Taga's 3-wheel cargo bike allows you balance well and ride with ease in park or path. You can also toggle effortlessly to stroller mode which allows you to shop, boards trains and slides into elevators. In addition, Taga folds up to fit into almost any car trunk. The modular design and accessories let you use it with newborns, 2 children at once, groceries, and the stroller would be a good fit for your kid until 10 years. It meets the bicycle and stroller safety standards for the US, Europe, and Australia.
[Image Source: Taga Bikes]
14. Throbber – The heating balls
Despite leaps in innovations for outdoor living, cooking for travelers and explorers can still be difficult. We might not be able to carry a stove while traveling but we certainly can carry small balls. Throbber is a new innovative inductive heating ball which can be controlled by a simple mobile application. The ball contains induction coil, power circuit, and vibration circuit, where vibration in the Throbber helps the ball to move around food. The heat induced in the balls is transferred to the food via conduction from the aluminum surface. and doesn't stick to your food. They are easy to clean, store, and carry. All you need to do is just throw it in the food and watch while it gets hot.
[Image Source: Spicytec]
15. Moveo Scooter – Environment-friendly foldable electric scooter
Moveo scooter is a lightweight scooter designed for the day to day comfort and easy operation. This product was designed by young Hungarian engineers and was successfully introduced at Auto, Motor & Tuning Show, Budapest between 18th-20th March 2016. Driven at a speed of 45km/hour (27.96 miles/hour), this strong and lightweight scooter is easily foldable. This outstanding device can fit into a car trunk, yacht, home, elevator and can be stored in the balcony. It features include – no harmful emissions, 45 kg (99.2 lb) of weight, easy to maintain, rechargeable battery, safe driving, adjustable seat, LED lights, and, full charge in 2 hours. The wheels get completely covered making it dirt free.

16. Moment lens – Lens for your smartphone, tablet
If you are passionate about photography and also an avid smartphone user, then this is for you. With this portable mobile photography lens, get a DSLR effect right into your smartphone for amazing pho. With a good image quality and greater compatibility with older and new iPhone models, these lenses are also compatible with the iPad Air, iPad mini, iPad Pro, several Samsung Galaxy S and Galaxy Note models and the Nexus 5. Be it outdoor or indoor, moment's various types of lens enhance your image quality. All moment lenses are handcrafted and they can be attached easily to your phone. Seems like one of the best gifts for Christmas!
[Image Source: Moment Lens]
17. Bionic Wrench – Combination of wrench and plier
Bionic Wrench is a remarkable patented tool with an adjustable wrench along with the use of pliers. Designed by LoggerHead tools, this incredible tool combines the power of 14 wrenches into one single wrench. An easy to use tool that increases gripping power on any nut or bolt. You can turn a bolt really fast, release the grip while still on the bolt, and, reposition wrench. The 6-Inch Bionic Wrench 6 SAE sizes, 1/4, 5/16, 3/8, 7/16, 1/2, 9/16 inch, and 8 Metric sizes, 7,8,9,10,11,12,13,14mm. This tool is a proud winner of 2005 Popular Mechanics Editor's Choice Award, Chicago Athenaeum Design Award, International Forum Design Award, and, Red Dot International Design Award. Be it a car, bicycle, lawn or home repairs, a single wrench will replace 14 other wrenches.
18. Tempescope – A future visual weather indicator
A software engineer, Ken Kawamoto came up with the idea of a device which visually displays tomorrow's weather and calls it Tempescope. It comes with an ambient display that visualizes various weather conditions like rain, clouds, and lightning. Based on weather forecasts from the internet, the tempescope pulls hourly forecasts from a wireless connection from a PC, which it will try to reproduce tomorrow's weather inside a sealed cuboid, which can be placed in your living room.
If there's going to be a thunderstorm, it shows flashes of real lightning; if water drops fall down it's going to rain. A combination of water and ultrasonics creates the cloudy vapor inside the box, while the gathered water at the top can create the rain. LED lights at the top attempt thunder or the sunshine. It's truly amazing! However, it can't show us snow yet. The Tempescope originally started as a weekend project with the first prototype made from $1 shampoo bottle.


19. CanopyStair – A portable staircase for a tree climber
Get ready to climb a tree effortlessly. CanopyStair is a modular spiral step which can be attached without tools around a tree trunk, allowing one to walk up into the canopy above. Lightweight and quick to assemble, the CanopyStair will not damage or mark the tree trunk. The designers behind this amazing idea are Robert McIntyre and Thor ter Kulve. The idea sparked them when they were discussing ways to transform a garden tree into a staircase. The CanopyStair comprises of cast aluminum tripod frame, lightweight thread, handrail, and a ratchet strap that quickly fastens the step into place.
[Image Source: CanopyStair]
20. Cyclee – A signal indicator for cyclist
The next time you ride a bike during the night time, make sure to have Cyclee with you. Cyclee is a sign projector concept designed for the safety of bike riders by projecting relevant warning signs on the back of a rider. Signs change depending on the actions of the rider. This signs would alert nearby vehicles about the cyclist actions. The entire program works wirelessly through a special chipset which is inserted into the device. A smartphone app would allow riders to control the device and modify the projected images. Especially, Cyclee can be mounted to various bicycle models. However, the mounting part changes depending on bicycle model.
[Image Source: Behance]
Geothermal energy is notorious for the high costs of installation. A woman-led energy company is working to change these notions and reduce energy bills.