January 9, 2023
January 4, 2023
December 20, 2022
November 28, 2022
January 13, 2023
January 12, 2023
January 10, 2023
January 4, 2023
January 11, 2023
January 6, 2023
December 14, 2022
December 12, 2022
January 12, 2023
January 11, 2023
January 11, 2023
January 10, 2023
July 1, 2022
September 29, 2021
June 8, 2021
May 26, 2021
January 13, 2023
January 6, 2023
January 3, 2023
December 30, 2022
Daily Coffee News Staff | December 21, 2022
Coffee equipment maker Fellow raised $30 million in a Series B funding round this year. Daily Coffee News photo by Howard Bryman.
To kick off our 2022 Year in Review, we're looking back at some of the biggest specialty coffee business news stories of the year. These include more than a dozen high-profile mergers or acquisitions alongside more than a dozen major capital injections for startups and existing coffee companies.
The industry's continued reliance on relatively low paid workers — from picking to packing to brewing — is not addressed here. Labor, indeed, may be the single biggest coffee news story in 2022, and we'll have more on that in the days to come.
For now, let's just follow the money, which this year flowed particularly heavily towards the direct-to-consumer market as opposed to the coffee retail/coffee shop market.
Among approximately half of the stories outlined below, where the focus is largely on the United States market, nearly $400 million was either raised or spent in acquisitions. Factoring in the deals in which financial terms were not made public, that number is likely much closer to $1 billion.
The year saw numerous major investments and acquisitions into single-serve and single-use product development and packing — with a noted emphasis on the Gen Z crowd — as well as into home coffee equipment sales and development.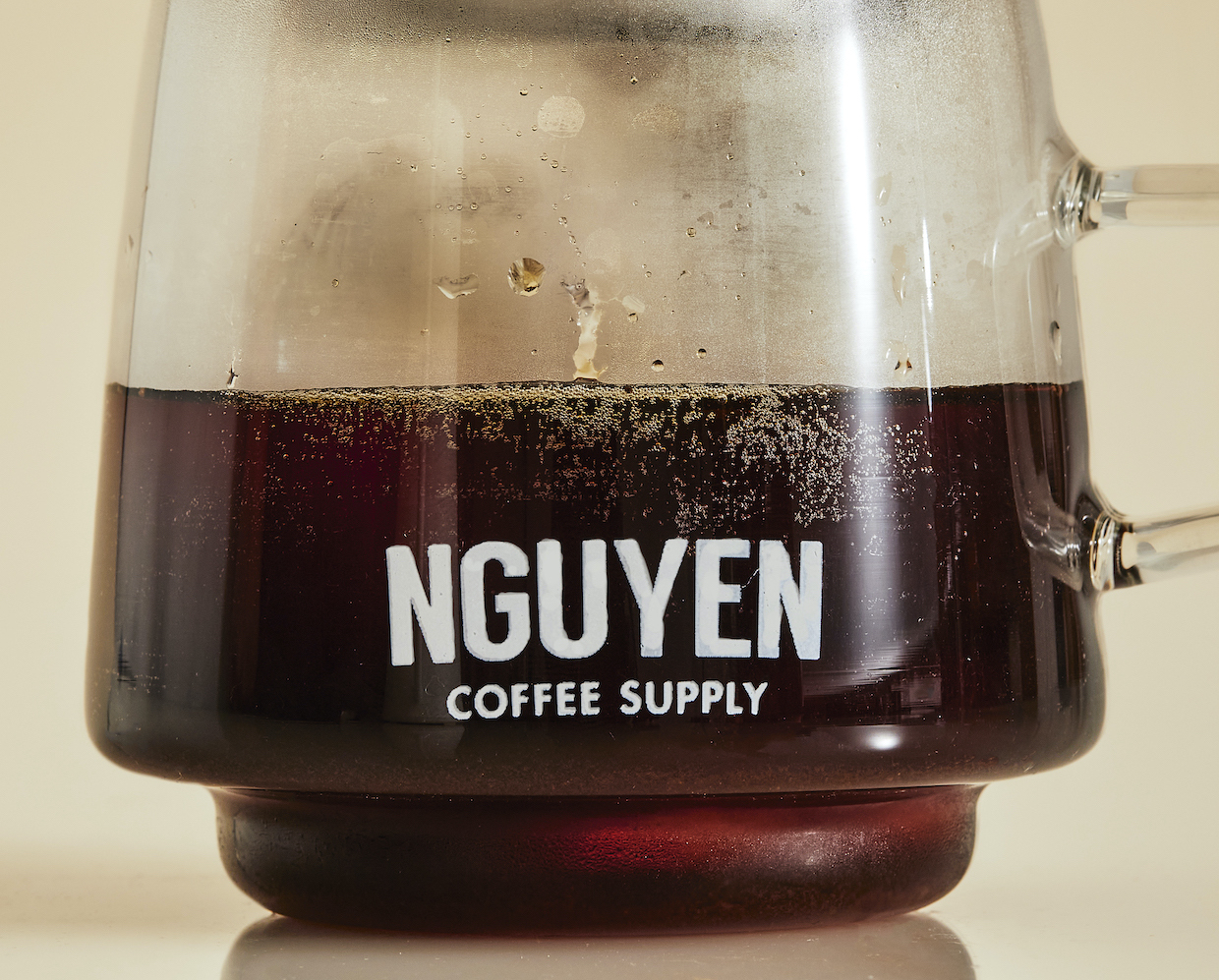 Nguyen Coffee Supply Lands $2.6 Million Funding Round
New York City-based Vietnamese coffee roasting, importing and equipment company Nguyen Coffee Supply has scored a $2.6 million seed funding round.
With no single lead investor, the funding came from a group composed of 40% women, 69% Asian-Americans, and 77% people of color, according to the company. Individual investors include founders or executives of numerous lifestyle and e-commerce companies, including Skillshare, Guitar Hero, DoorDash and Care.com… Read more
Influencer-Led Chamberlain Coffee Closes $7 Million Funding Round
Chamberlain Coffee, the roasted coffee brand founded nearly three years ago by YouTube influencer Emma Chamberlain, has closed a $7 million Series A funding round.
After initially launching with Steeped Coffee single-serve packs, the Chamberlain Coffee product lineup has grown exponentially to include a range of single-use and bagged coffee offerings alongside other beverage bases and merchandise…. Read more
Starbucks is Selling Seattle's Best Coffee to Nestlé
Starbucks is selling the Seattle's Best Coffee brand to global food giant Nestlé. The terms have not been disclosed.
Starbucks has owned Seattle's Best since 2003, though Seattle's Best dates back to a single coffee shop founded in 1969 on Whidbey Island northwest of Seattle under the name Wet Whisker… Read more
Private Label Roaster Joe's Garage Merges with Single-Serve Maker Pod Pack
New Orleans private equity firm LongVue Capital, a current investor in Pod Pack, described the deal as both a "combination" and as a "complementary merger." The financial terms of the deal were not disclosed.
With a 74,000-square-foot manufacturing facility in Baton Rouge, Pod Pack's business is squarely focused on the manufacture and co-packing of single-serve coffee pods in various formats… Read more
A Steeped Coffee bag next to a cup of brewed coffee. Steeped Coffee press photo.
Single-Serve Provider Steeped Coffee Raises $5 Million in Crowdfunded Equity
California-based single-serve coffee product maker Steeped Coffee has raised $5 million through the equity crowdfunding platform Republic.
In a campaign that lasted less than 48 hours, Steeped reached the $5 million limit for regulation crowdfunding, a.k.a. Reg CF, as established by the United States Securities and Exchange Commission. More than 4,500 accredited and non-accredited investors contributed to the campaign… Read more
'Beanless Coffee' Drink Maker Atomo Raises $40 Million More, Launches RTD Line
Seattle-based Atomo closed a $40 million Series A funding round to scale up development and production of its "beanless coffee" products.
Atomo first made headlines with a 2019 Kickstarter campaign that raised just over $25,000 and announced the successful "reverse engineering" of coffee to produce a beverage that looks and tastes something like coffee but is not derived from roasted coffee beans… Read more
Cold Brew Specialist Chameleon Acquired by RBBL Owner SYSTM Foods
Less than five years after being acquired by Nestlé USA, Austin, Texas-based cold brew specialist Chameleon Organic Coffee has been acquired by SYSTM Foods.
Describing itself as "an impact-focused food and beverage brand platform," SYSTM Foods is a joint investment partnership comprising the California-based firms SYSTM Brands and Powerplant Partners… Read more
Voyage Foods Thrusts Into 'Bean-Free' Coffee Sphere with $36 Million Funding Round
Promising "coffee without the coffee beans," Oakland, California-based Voyage Foods has secured a $36 million Series A funding round.
The company joins a growing list of venture-capital-backed startups in or around coffee, all boasting space/time-travel-themed branding and laboratory-aided products pitched as solutions to existing coffee industry dilemmas… Read more
Olam's Ofi Acquiring Canadian Roaster Club Coffee for $117 Million
International food and ingredients company Ofi has announced it is acquiring 116-year-old Canadian coffee roasting and packaging company Club Coffee for CA$150 million (approximately $117 million USD).
Ofi (which originally stood for "Olam Food Ingredients" and is currently styled "ofi" by the company) is the operating group that was spun off of agri-business giant Olam Group last year with the intention to pursue IPOs on the London and Singapore stock exchanges this year… Read more
Dripkit Co-Founder Ilana Kruger. NuZee press photo.
NuZee Acquires Single-Use Pourover Maker Dripkit for $860K
Texas-based coffee co-packing company NuZee has acquired single-serve, single-use pourover maker Dripkit for $860,000 in cash and stocks.
DCN first reported on the launch of Brooklyn, New York-based Dripkit in 2017, just prior to the startup securing nearly $30,000 through Kickstarter for an initial production run with partnering roaster City of Saints in Red Hook… Read more
Waka Coffee & Tea Raises $725K, Seeks Instant Success
Freeze-dried instant coffee and tea company Waka Coffee & Tea is expanding its staff, its product line and its distribution following a new $725,000 pre-seed investment round.
The California-based company is also rolling out a refreshed brand and package design, offering aesthetic touches and language more commonly associated with the specialty coffee category than with the instant category… Read more
Cold Brew Specialist Bizzy Coffee Closes $7.1 Million, Plans Twin Cities Manufacturing Plant
Bizzy Coffee has closed on a $7.1 million funding round with plans to vastly expand its grocery distribution and add a manufacturing headquarters in Minnesota's Twin Cities region.
Launched by a pair of Minneapolis-based entrepreneurs in 2016 with a focus on cold brew concentrates and subscriptions, Bizzy has since grown into a major grocery and Amazon-based seller of Organic-certified ready-to-brew and ready-to-drink (RTD) cold brew products… Read more
Numerous Big Coffee Companies Invest in Digital Fingerprinting Startup ProfilePrint
Singapore-based food ingredient fingerprinting startup ProfilePrint has closed a series A funding round involving numerous multinational companies with significant interests in coffee.
ProfilePrint applies artificial intelligence (AI) technology for digital fingerprinting and evaluation of food ingredients — namely coffee, to this point. Offering an ingredient search engine platform, the company promises the traceability of ingredients, plus potential operational efficiencies throughout transactions… Read more
Cablevey Conveyors Acquired by Chicago Firm May River Capital
Chicago-based private equity firm May River Capital has acquired Oskaloosa, Iowa-based Cablevey Conveyors, makers of tubular drag conveyer systems whose installations can be found throughout the coffee industry.
The acquisition was finalized on Dec. 22, 2022, on the exact day of Cablevey's 50th anniversary as a company. A Cablevey representative declined to disclose the financial details of the acquisition to DCN… Read more
The Ascaso headquarters in Barcelona, Spain. Azkoyen Group press photo.
Vending Giant Azkoyen Buys Spanish Espresso Machine Maker Ascaso for $17.2 Million
Spain-based multinational vending and payment technology company Azkoyen is acquiring family-owned Spanish espresso equipment company Ascaso for €17 million ($17.2 million, as of this writing).
The acquisition of Barcelona-based Ascaso represents Azkoyen's first major play in the premium traditional manual and semi-automatic espresso segment, adding to a range of products and services already offered by Azkoyen Group brands in fully automatic vending and payment systems… Read more
VEA Ventures Invests in Portland-Based Brewer Maker Ratio
The Italian holding company behind the equipment brands Carimali and Elektra has made an undisclosed minority investment in Portland, Oregon-based home coffee brewer maker Ratio.
The non-controlling investment comes from Bergamo-based VEA Ventures, which was founded five years ago by Andrea Doglioni Majer as primary owner and operator of the iconic Carimali espresso machine brand. In 2019, VEA/Carimali acquired fellow Italian machine brand Elektra… Read more
Coffee Equipment Service Specialist Espresso Partners Acquired by Smart Care
Chicagoland-based food equipment and mechanical systems conglomerate Smart Care has acquired Twin Cities-based Espresso Partners, one of the largest providers of coffee equipment maintenance and repair services in the nation.
The financial terms of the acquisition have not been disclosed, although it represents the 17th strategic acquisition made by Alsip, Illinois-based Smart Care since 2017… Read more
A new Stagg EKG Pro kettle from Fellow. Daily Coffee News photo by Howard Bryman.
Coffee Equipment Maker Fellow Raises $30 Million in Series B Round
San Francisco-based coffee brewing equipment maker Fellow has raised an additional $30 million through a Series B funding round.
Leading the Series B round was NextWorld Evergreen, a growth equity firm also based in San Francisco that focuses on "conscious" consumer brands. Previous food and beverage-related investments in the NextWorld portfolio have included Steven Smith Teamaker, Alter Eco Chocolate, Mighty Leaf Tea and others… Read more
Dalla Corte Partners with Whole Latte Love to Launch Dalla Corte USA
Italian espresso machine and grinder company Dalla Corte has partnered with upstate New York-based coffee equipment seller Whole Latte Love to establish Dalla Corte USA.
At its facilities in Rochester, 25-year-old Whole Latte Love has established a formal United States base of operations for inventory, sales and service of Dalla Corte's complete line of equipment certified for use in North America… Read more
GH Grinding & Brewing Makes US Debut with Mahlkönig, Tone, Etzinger and More
A new United States distributor for specialized commercial espresso, brewing and grinding equipment called GH Grinding & Brewing Solutions is making its public debut this week at the Specialty Coffee Expo in Boston.
The new company is acting as a distributor for German commercial grinder brands Mahlkönig and Anfim, and for automatic tamper maker Puqpress. The company is also the exclusive U.S. distributor for Swiss commercial brewer maker Tone, and boutique European grinder makers Bentwood and Etzinger… Read more
Fiorenzato Partners with Espresso Parts to Launch Fiorenzato USA

Lacey, Washington-based coffee equipment supply company Espresso Parts has partnered with Italian espresso grinder manufacturer Fiorenzato to establish Fiorenzato USA.
With Fiorenzato products in stock in its Washington warehouses, Espresso Parts is launching sales and service of the latest home and professional espresso equipment made by the 80-year-old Italian company… Read more
The Lelit Bianca espresso machine. Daily Coffee News photo by Howard Bryman.
Breville to Acquire Italian Espresso Machine Maker Lelit for $124 Million
Australia's Breville Group has announced plans to acquire Italian prosumer espresso equipment company Lelit in a deal worth €113 million ($124 million USD) in cash and shares.
According to a filing with the Australian Securities Exchange today, publicly traded Breville plans to acquire 100% of the Lelit group (styled "LELIT" by the company), half through cash funded from existing reserves and debt facilities, and half through fully paid shares in Breville Group (BRG)… Read more
Synesso Owner Middleby Corporation Acquires Marco Beverage Systems
Elgin, Illinois-based foodservice equipment giant Middleby Corporation has acquired Marco Beverage Systems, a prominent maker of water heating and coffee brewing systems in the specialty coffee industry. The financial terms of the acquisition are not being made public.
Middleby made its first major play in the specialty coffee industry in 2019 with the acquisition of Seattle-born espresso machine maker Synesso… Read more


Dunn Brothers Coffee Acquired by Franchise Specialist Gala Capital Partners
Franchise-focused private investment firm Gala Capital Partners has acquired the Minnesota-based coffee chain Dunn Brothers Coffee, which currently has 59 franchise locations in seven states.
The terms of the sale were not publicly disclosed… Read more
Robot Barista Brand Artly Lands $8 Million, Plans Retail Expansion
Seattle-based robot barista startup Artly has closed an $8 million investment round with plans to expand its footprint of robotic barista retail kiosks.
The company, led by longtime Amazon Web Services engineer Meng Wang, opened its first retail stand in Portland, Oregon, inside the Japanese lifestyle brand store MUJI in 2021… Read more
Roasted Coffee from Up Coffee Roasters. Courtesy photo.
Fairwave Acquires Minneapolis-Based Up Coffee Roasters, Seeks Continued Midwest Growth
Kansas City, Missouri-based Fairwave Holdings (styled as FairWave) has added a fourth major specialty coffee brand to its portfolio, acquiring the Minneapolis-based coffee roasting company Up Coffee Roasters.
The move comes one year after Kansas City, Missouri-based Fairwave acquired Minneapolis-based roaster and retailer Spyhouse Coffee Roasters. Fairwave made its public launch just over two years ago with the conjoining of two popular Kansas City-area specialty coffee companies, Messenger Coffee and The Roasterie… Read more
Victrola Owner Vibe Coffee Group Acquires Seattle Coffee Works
Vibe Coffee Group, the business group that owns longstanding Seattle-area coffee purveyors Victrola Coffee Roasters and Whidbey Coffee, is acquiring Seattle Coffee Works.
Dating back to an initial pop-up shop near the Pike Place Market in Seattle in 2006, Seattle Coffee Works has been led by partners Sebastian Simsch, Oscar García, and Pipo Bui. The three built a devoted following for the brand through direct-trade principles and transparency along with a focus on coffee craft within the cafes… Read more
Jack's Stir Founder Jack Mazzola. Photo by Noah Fecks, courtesy of Jack's Stir Brew
New York's Jack's Stir Brew Merges with Wine Bar Chain Vin Sur Vingt
Longtime New York coffee purveyor Jack's Stir Brew has merged with independent New York wine bar chain Vin Sur Vingt (VSV) to form a new parent company called TenEleven Hospitality.
The financial terms of the merger were not released… Read more
Pegasus Coffee Company Acquires Dudes Donuts, Plans Seattle-Area Expansion
As further evidence of the magnetism between coffee and donuts, longtime Seattle specialty coffee purveyor Pegasus Coffee Company has acquired Port Orchard, Washington-based Dude's Donuts.
Pegasus Coffee President Matt Grady told DCN that the two brands, founded nearly four decades apart, will remain distinct, while Pegasus will help to scale the bakery operation… Read more
Daily Coffee News Staff
Tags: 2022 Year In Review
Your email address will not be published. Required fields are marked *






E-News Subscribe